Resources for New Mailers
Welcome to Mailing!
We put together the following resources and answers to the most commonly asked questions we get from new mailers. If you can't find what you need on this page, please don't hesitate to use our chat support or give our friendly support staff a call at 800.233.0555.
ACCUZIP6 COMMANDS
Creating a Custom Command
Within your AccuZIP software is a command section that can be personalized for your specific needs for data hygiene and mail processing. Below are some common commands requested by new users. You can find more common commands on the Commands page here on our website.
To use a command [create a command], have a list imported into AccuZIP and showing on the main screen. Go to Edit > Commands in the drop-down menu at the top of your AccuZIP screen. Once there, you can add any command simply by choosing the icon that resembles a sheet of paper on the right side of the Command screen to open the Create and Run a Command window.Simply give your custom command any name that you prefer. AccuZIP6 saves your new command so it will be available in the drop-down menu for future use. Add your custom command to the command Statement syntax area: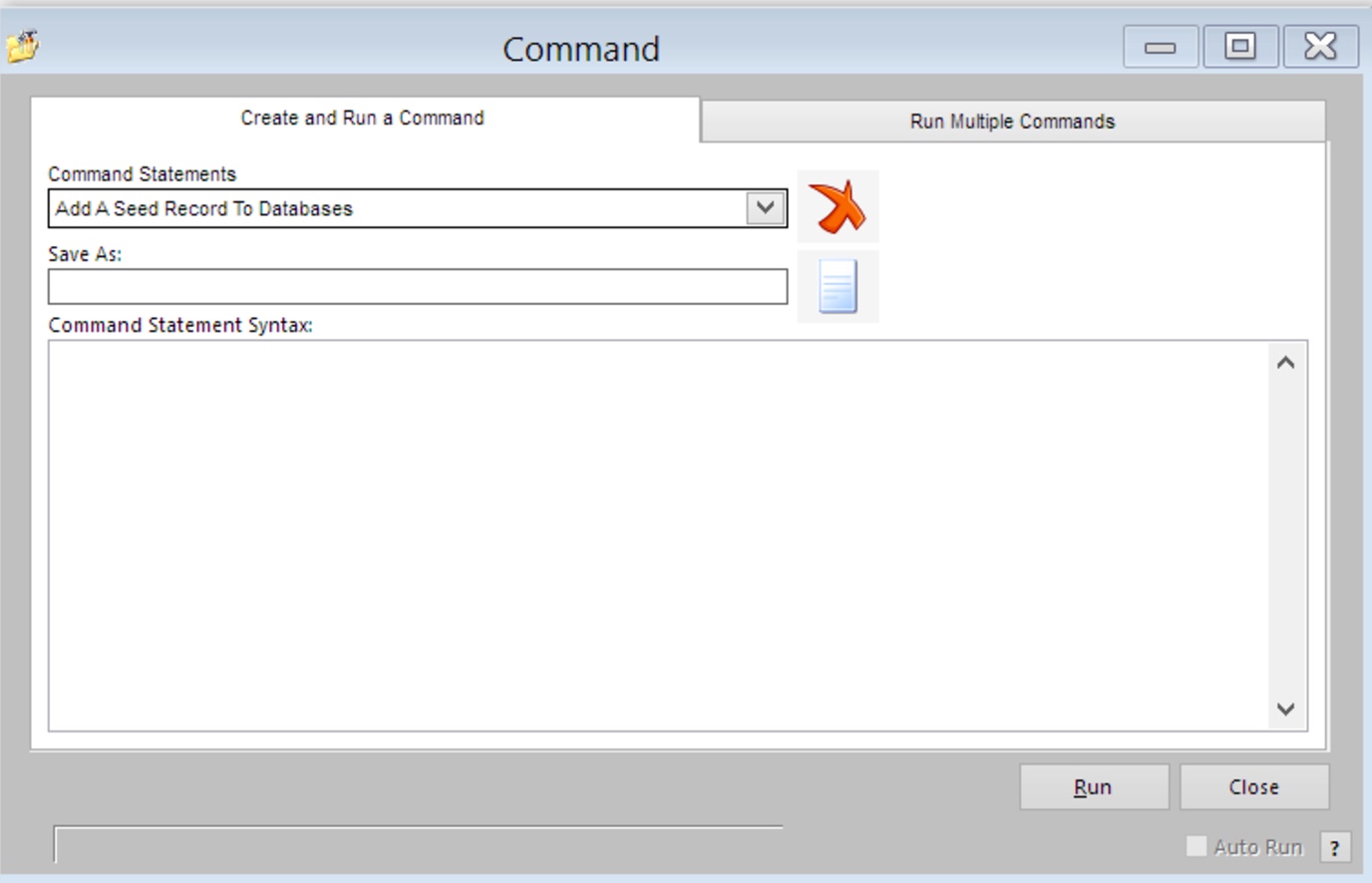 Common Commands Requested by New Users
Link to our AccuZIP6 Commands Forum:
http://www.accuzip.com/forum/viewforum.php?f=7
---
UNITED STATES POSTAL SERVICE WEBSITE
Mailing and Shipping Solutions Center Contact Information during normal business hours:
Mailers experiencing an issue/outage with their system during normal business hours must contact the MSSC via phone or email to receive a ticket.
Mailers experiencing an issue/outage with their system outside of normal business hours must contact the Mailing Shipping Solution Center via email at MSSCAdmin@usps.gov to initiate a ticket. It is important to note that this only applies when a mailer experiences an issue with their system. Mailers do not have to contact the Mailing Shipping Solution Center during a USPS issue/outage.
*Note: The MSSC hours of operation are from Monday-Friday 7AM-7PM CST. Customers must provide either a ticket number or a copy of the email sent to MSSCAdmin@usps.gov to the BMEU when presenting mail, which will allow mailers to continue to present mail under the USPS PostalOne! Contingency Plan.
(This is the go-to site for USPS DMM rules and regulations it also had direct links to USPS Quick Service guides and the current Labeling Lists.)
This page contains a complete list of all current USPS Postage rates. This notice is updated with each USPS rate change.
Service Types are a 3 digit code chosen by the mailer to be included in all Intelligent Mail Barcode. They communicate service and handling requests by the mailer to USPS.
This brand-new study is a "must-have" report for anyone providing mailing services! Whether you are an "old-timer" or just getting your feet in the industry, this is a must-have study!
This new 115+ page report contains detailed pricing information for more than 40 key mailing services and products. You can check-out the study's Table of Contents by clicking here.