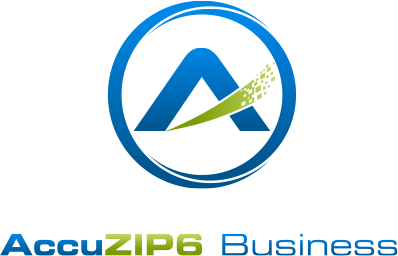 Keep Customer Mailings In-House
As technology continues to evolve, the thought of adding new service offerings can seem intimidating and tedious. It may seem easier to outsource and pay someone else to do the work. But with AccuZIP6 postal software, it takes very little effort to process the mailing yourself, while keeping the profits in your own pocket. Read the Top 7 Reasons to offer direct mail services to your customers and see if you can still come up with legitimate reasons for leaving money on the table. In our Mail Made Easy presentation, we offer ideas on how to price direct mail services that you offer.
AccuZIP6 follows four basic steps to complete a mailing.
Address List Hygiene

Clean customer address data and eliminate waste

Postal sorting

Sort addresses to achieve postal discounts

Print Addresses

Barcoded addresses print in sort order

Generate Reports

Upload postal reports to the post office for quick drop off
Step 1: Address List Hygiene
There are five reasons why address cleansing is necessary for mailing:
Format all addresses to follow standardization rules set forth by USPS®
Improve deliverability by correcting address information
Identify bad addresses prior to print that would be discarded or returned if mailed
Update addresses for recipients who may have moved
Eliminate costly duplicates from the mailing list
Out-of-date or unverified data not only waste money on postage and materials but if your mailpiece does not make it to its intended recipient, there will be no return on investment. AccuZIP6's Address Validation feature with NCOALink® move update processing provides the foundation for address cleansing, while the Duplicate Detection feature will keep you from paying postage and wasting material by sending multiple pieces to the same recipient.
The quality of address cleansing can vary based on software. Maintain a distinct advantage over your competitors by using the tools in AccuZIP6 to show your customers their data matters. Fulfill their needs quickly, efficiently, and effortlessly.
Step 2: Postal Sorting
Once address cleansing is complete, you're ready to sort your mail in order to take advantage of the lowest postage rates available for what you intend to mail.
Four important points to remember to sort your mail successfully:
Are you mailing marketing material or bills, invoices and other personal material?
Are you mailing on behalf of a nonprofit organization?
What are the dimensions of the mailpiece?
What is the ZIP Code of the permit being used for this mailing?
Enter this information into AccuZIP6, click a button and the software does all the work! It will follow all USPS rules and standards and sort your mail based on the lowest postage rates possible.
Step 3: Address Printing
When the sortation is finished, it's time to print your addresses.
There are three options to printing:
Use your variable data printing (VDP) software in conjunction with your digital press.
Print addresses directly onto pre-printed pieces such as postcards, direct mail, and envelopes.
Print addresses onto labels which are then affixed to the final pre-printed mailpiece.
Whether printing direct from AccuZIP6 or exporting out of AccuZIP6 and importing the final list into a variable data or mail merge program, the integrity of the pre-sorted file is maintained. Print any fields from the original database in addition to the Intelligent Mail® barcode directly onto the mailpiece.
When printing directly from AccuZIP6, take advantage of the Pause Printing feature to temporarily stop the mailing at the end of a container and resume printing once the container has been completed.
Step 4: Generate Container Tags and Documentation
AccuZIP6 takes care of all the necessary container tags and documentation for you. There is no need to worry about filling out paperwork or determining what type of container is needed. Print container tags directly out of AccuZIP6, then slip those tags right into the plastic sleeves on the front of the actual containers.
The AccuZIP6 qualification report tells you which types of containers you need for your mailing, and which and how many pieces go into each tray. Trays are free from the post office! Simply go to your local post office and request the number and type of containers you need directly from the report.
Once you've printed your mail pieces and placed them into the proper containers, you're ready to take your mail to the post office. To save even more time, you can submit your paperwork to the post office online. AccuZIP6 will provide you with all of the necessary files for submission electronically.
With your mailing's paperwork in their system, you'll simply need to drop the mail at the post office and pay the postage! It's that simple.
All the Training and Support You Need
At AccuZIP, going the extra mile to help you succeed is part of our culture. Our customer testimonials show evidence of this.
Here's what you can expect from our support staff:
Free Training. Begin your journey into providing mail services to your customers by receiving AccuZIP6 training by our dedicated support staff. Learn step-by-step from our knowledgeable team how to complete mailings from start to finish!
Free Technical Support through live online chat, email, and telephone. As you perform mailings on your own and have questions along the way, enjoy quick access to our support staff. We are always available to assist you, days or years after your initial purchase.
GoToAssist Support. When hands-on teaching is appropriate, we'll connect directly to your computer and show you how to complete a task. This may include tasks in AccuZIP6 or tasks outside of it, such as helping upload documentation to PostalOne!, the Postal Service's electronic submission platform.
The Top 7 Reasons to Add Mail Service
Learn How To Complete Mailings
Please complete the form below to have an AccuZIP product specialist arrange a demonstration for you.
To Order by Phone, Call (800) 233-0555
** All orders place prior to 3:00pm Pacific, Monday - Friday, except holidays, will be shipped the same day.
** All Editions include free software updates and upgrades, unlimited access to individual and group training, free technical support for the lifetime of your subscription.