AccuZIP announces the addition of Mark Rheaume
AccuZIP, Inc. now has new look geared for global outreach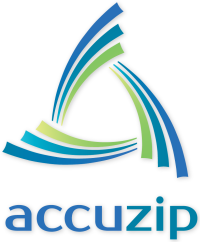 MARCH 8, 2013. ATASCADERO, CA – AccuZIP announced today that Mark Rheaume has joined the company as National Postal Affairs Director. In this role, Rheaume will work closely with industry associations and USPS to mediate postal initiatives, ensuring that AccuZIP customers receive the insight and mailing solutions needed to successfully navigate the changing postal landscape.
"We are very excited to welcome Mark to AccuZIP. As an experienced and respected leader in the mailing industry, our customers and organization will benefit from Mark's passion for the industries we serve," said Steve Belmonte, AccuZIP President. "His dedication, knowledge and experience within many industry sectors will provide insight, perspective, resources and services to help mailers solve their ever evolving business challenges."
"This opportunity at AccuZIP excites me. Its core values of service, loyalty, excellence, innovation and integrity are truly the cornerstones of its unparalleled dedication to their customers and the future of the mailing industry," said Rheaume. "The passion and drive at AccuZIP for delivering excellence to the mailing industry are humbling. I am truly fortunate to be a part of this talented team."
Rheaume joins a team of industry leaders to represent its customers as the primary liaison with the USPS and as an active member in postal industry associations, such as MTAC, IDEAlliance, NPOA, PCC, AMSP, AMA, DMA, APC, AIMED, MSMA, NEMOA, PSA, PSDA, MSMA, and Print Industry of America to name a few . In this role, Mark will work with industry stakeholders and the USPS to help AccuZIP customers meet the needs of the USPS Intelligent Mail® initiatives. AccuZIP's robust suite of products (AccuZIP6, AccuTrace, LIVINGMAIL, AccuZIP Data Quality Toolkit and AccuGeocoder) provides cost control with no sacrifice in functionality.
"In times of unprecedented change within the USPS the industry needs to have vendors who are dedicated to deliver and support technology that enhances mail processing while keeping the business viable," Rheaume continues. "I am confident that the AccuZIP Team will lead the way with products that will capitalize on the opportunities ahead."
Rheaume has 23 years of experience developing mailing solutions. Prior to joining AccuZIP, Rheaume served in many roles in various sectors within the industry. His knowledge and leadership bring a unique perspective and respect for the industry to AccuZIP. Please join us in welcoming Mark into this new opportunity!

ABOUT ACCUZIP, INC.
AccuZIP, Inc. is a national software company based in Atascadero, Calif. that develops products and services to simplify the multimedia communications process. AccuZIP makes it easier for businesses to get their message out to the right people at the right location when they need to most. For 21 years, the company has built an outstanding reputation for value, service and innovation. For more information, visit www.AccuZIP.com.