USPS Full-Service Certification Webinar by AccuZIP gets mailers certified in under an hour
AccuZIP dedicated to making every customer full-service compliant before automation rates require it in 2014
April 11, 2013 – Atascadero CA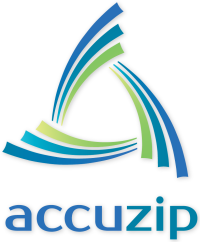 AccuZIP, Inc. hosted their first Full-Service Certification hands-on webinar for their customers, which guided the participants through every step of the processes required to become Full-Service certified and be able to submit postal paperwork electronically. Not only does this prepare AccuZIP customers for the USPS requirements needed to achieve automation rates beginning January, 2014, but it also allows those who submit their paperwork electronically by way of uploading their maildat files through PostalOne! the ability to immediately receive full-service discounts for First-Class and Standard Mail. In addition to the full-service discounts, those who are full-service compliant do not need to submit hard copy postal forms with their mailings.
The session, hosted by AccuZIP Sales and Support Specialist Kristen McKiernan and AccuZIP CEO and President Steve Belmonte, was full to capacity! During the less-than-hour-long session, all AccuZIP customers in attendance were "shepherded" through the Full-Service Certification process.
AccuZIP sent out detailed instructions for each participant to complete prior to the webinar, including a requirement of having the ability to login to the PostalOne! Mail.dat Client TEM Application and the Business Customer Gateway. Instructions on how to do these things accompanied these requirements. These instructions allowed the participants to gain maximum benefit while attending the webinar, and to achieve Full-Service Certification from the USPS by the end of the session. Today's webinar (and those already scheduled going forward), reinforces AccuZIP's continued dedication to service for its customers, whom AccuZIP considers its partners, and their customers' success.
AccuZIP, Inc. President and CEO Steve Belmonte stated, "We know that this certification is far too important to wait until the January 2014 deadline is any closer. Our company is laser-focused on getting our partners certified as quickly as possible. This certification helps our partners gain a major competitive advantage within the industry and reflects our never-ending dedication to providing outstanding products and support that keeps them ahead of their competition in the industry."
Kristen McKiernan stated, "For our partners, the Full Service Certification webinars simplify what can be a confusing, cumbersome and sometimes expensive process. Proactively introducing this series to our partners is further proof that AccuZIP is there to support mailers for the long term!"
AccuZIP, Inc. has decades of experience in delivering indisputable mailing innovations and an endless devotion to service. AccuZIP leads the industry in these efforts so its customers never have to feel alone when faced with changes that affect their ability to remain viable and competitive.
AccuZIP, Inc. will continue to be an industry leader and "Set the Bar" for mailers who need exemplary postal software solutions.

ABOUT ACCUZIP, INC.
AccuZIP, Inc. is a national software company based in Atascadero, Calif. that develops products and services to simplify the multimedia communications process. AccuZIP makes it easier for businesses to get their message out to the right people at the right location when they need to most. For 21 years, the company has built an outstanding reputation for value, service and innovation. For more information, visit www.AccuZIP.com.