Print13: AccuZIP makes Booth #4624 "The Place to Be"
Come meet our staff and share in the "AccuZIP Experience" on September 8-12, 2013 in Chicago at Print 13
AccuZIP is proud to announce our presence at PRINT 13. This show is the largest and most comprehensive exhibition and conference of its kind for the global graphic communications and mailing industries. Featuring more than 500 exhibitors representing print, mail, online, and mobile technology solutions this show is a "must attend" for professionals in these fields.
The AccuZIP booth (#4624) will be spacious (20'x40') and feature our new corporate branding and new product enhancements that will have the entire industry talking. Our booth will provide room for multiple concurrent educational sessions, consultations, a private VIP conference meeting room and general interaction with visitors. This is a good thing because we have so much to show and announce! AccuZIP, Inc. President and CEO Steve Belmonte cited this as "The largest venture into an industry tradeshow in AccuZIP history!" He went on to state "AccuZIP will be going at this "full force" and we are ready to show the industry that AccuZIP is the industry's premier postal software solution. We are dedicated to our partners and hope to gain valuable exposure to those in the industry who are not familiar with the "AccuZIP Experience"!"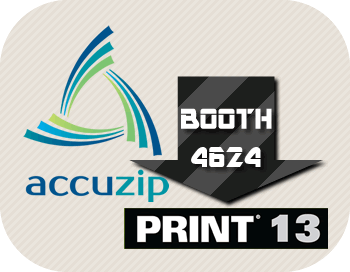 Already known as a feature rich postal software solution, AccuZIP will be announcing enhancements that will only reinforce this reputation and secure its position as a leader in Data Quality and Cloud solutions as well. Visitors to booth #4624 will get to meet and talk with our wonderful staff, including the President and CEO Steve Belmonte himself, about our new features that promise to redefine the postal solutions marketplace. The features are both innovative and functional while maintaining our pricing strategy within the industry. AccuZIP products and services will not price you out of business. Our solutions provide customers with the ability to compete in today's environment regardless of size. Our "unlimited" and "flat fee" pricing philosophy allows businesses to grow their profits as they grow their business without having to share these hard earned dollars as a result of "piece/credit based" style pricing.
We have heard statements in the industry that USPS Full Service certification will cost mailers somewhere between "The cost of a new car and that of a new house!" We are dedicated to making sure that this is not your experience. In fact, we find it offensive to even joke about! Innovation and leading the industry are nothing new to AccuZIP! Here are a few examples:
• Our Price Lock Guarantee – No price increases to accounts in good standing EVER!
• Unrivaled functionality, features, value and pricing on all of our products and services
• Our new features will only enhance these benefits
• First to offer unlimited access to features such as CASS and NCOALink processing
• First to introduce and complete USPS Full Service certification webinars for our partners!
Give us the chance to show you where you can take your business using our solutions.

At AccuZIP we also encourage people to remember to have fun. Fun at our booth will include daily prize drawings, "show specials" and other fun events that no one will want to miss and everyone will be talking about! These will be announced as the show dates get closer! AccuZIP will also be co-sponsoring "NPOA Networking at Work" events. They will be held on September 8th and 9th from 5:15-7:00 PM in the Hamer Room in the Hard Rock Hotel in Chicago. Please stop by and get to know us and others in the industry during these relaxing and casual events.
While at the show, we want current partners to stop by our booth to personally thank them for their dedication and to learn more about what we can do better to continue to earn their business. Current partners who are not yet Full Service certified will have the opportunity to walk through our proven certification process. We also welcome people who are new to AccuZIP. We encourage them to stop by and give us the chance to understand their needs while showing them how our feature rich, innovative, scalable and value packed solutions can optimize the profitability and efficiency of their businesses. At AccuZIP, we believe the answer is "Yes" and just need the chance to hear your questions!
AccuZIP, Inc. continues to "Set the Bar" for mailers needing exemplary postal software and data quality solutions. We are excited for the opportunity to show off our solutions, earn your business and give you the chance to have some fun all at the same time! Because with AccuZIP, "OUR TECHNOLOGY IS YOUR SUCCESS." Remember to watch for upcoming announcements about the revolutionary AccuZIP product innovations and the activities at our booth. This information will be announced closer to September!
ABOUT ACCUZIP, INC..
AccuZIP, Inc. is a national software company based in Atascadero, Calif. that develops products and services to simplify the multimedia communications process. AccuZIP makes it easier for businesses to get their message out to the right people at the right location when they need to most. For over 22 years, the company has built an outstanding reputation for value, service and innovation.
ABOUT PRINT 13.
For complete information about attending PRINT 13 contact:
Graphic Arts Show Company
1899 Preston White Dr.
Reston, VA 20191
Phone: (703) 264-7200
Fax: (703) 620-9187
E-mail: print13@gasc.org
Web: www.print2013.com