Software Company Launches New Look, Vision for Future
AccuZIP, Inc. now has new look geared for global outreach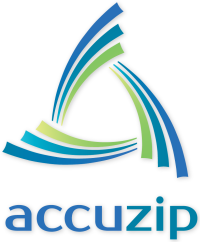 ATASCADERO, CA – AccuZIP, Inc. has repositioned itself for global success by reinforcing its philosophy with a new brand, complete with a new logo, website and vision for the future.
"This is an aggressive move forward to let people know we're here, and we're here to stay," said AccuZIP President and CEO Steve Belmonte. "We have so many great products and services that we're constantly developing, and this rebrand gives us the leverage we need to move into the next 10 to 20 years and show that we're constantly moving forward."
AccuZIP provides businesses and professionals with software solutions that help streamline data management and simplify the multi-channel communications process. Its customers include corporations such as PG&E, Hewlett-Packard, AllState Insurance, Domino's Pizza, Wells Fargo, and AT&T. Recently, AccuZIP rebranded the company to position it for future success in a global market. Over the past few months, AccuZIP employees and customers were part of the entire rebranding process, and the result is a friendly, professional and progressive new brand that reinforces the company's philosophy and supports its core values.
Based in Atascadero, CA, AccuZIP has helped thousands of organizations manage data and increase ROI. Nearly 25 percent of all mail processed through the USPS system contains some kind of error, and on average, 120,000 permanent changes of address are filed every day. For many businesses, managing data changes at that level can be near impossible. AccuZIP develops software solutions that give businesses a full arsenal of automated data quality, postal presorts, data management, and scripting tools to help keep their businesses running smoothly.
The company began in 1992 out of necessity when Belmonte, who owned a printing company 10 years prior, realized that there was no postal or data quality software available for Macintosh (Mac) computers. He wrote the software himself to make his life and work easier, without ever intending to sell it to others.
Eventually the product began to do things even Window products weren't doing at the time – data management, merge/purge, and other data quality tools. Belmonte then began selling it at trade shows, where the product was a big hit. But the company has grown significantly over the years because of its constant innovation and its unique philosophy on customer service. The new brand helps tie both aspects of the company together.
"My philosophy from Day One has been to focus on customer service, and that's what we're known for – our excellent customer service," Belmonte said. Anonymous customer research conducted as part of the rebrand even showed that the company has a 98.5 percent satisfaction rating. "Our focus has been perpetually trying to meet all of our customers' ever-changing needs, and that's why our products are so robust. In rebranding, we're just reinforcing our 21-year philosophy and moving forward with it."
For more information, visit www.accuzip.com.

ABOUT ACCUZIP, INC.
AccuZIP, Inc. is a national software company based in Atascadero, Calif. that develops products and services to simplify the multimedia communications process. AccuZIP makes it easier for businesses to get their message out to the right people at the right location when they need to most. For 21 years, the company has built an outstanding reputation for value, service and innovation. For more information, visit www.AccuZIP.com.