AMSP/NAPL/NAQP Names AccuZIP6 Mailing Software Product of the Year
East Rutherford, N.J. (August 19, 2014) - AMSP/NAPL/NAQP has named AccuZIP6 mailing software from AccuZIP Corp., Atascadero, Calif., as its Product of the Year. This award is presented to a company that has produced a new or enhanced product that improves product offerings, profitability, or customer service and satisfaction in the quick and small commercial print market.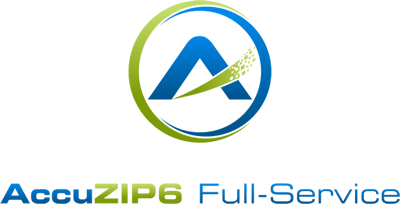 AccuZIP, Inc. will be honored in ceremonies taking place on Sept. 27 during the 2014 Owner's Conference being held at The Palmer House Hilton Sept. 25-27, 2014 in Chicago, IL.
"We are happy to present the well-deserved Product of the Year Award to AccuZIP, Inc.," says Mitch Evans, NAQP Managing Director, and a Vice President of AMSP/NAQP/NAPL, the association formed this year through the merger of the Association of Marketing Service Providers, National Association for Printing Leadership, and National Association of Quick Printers.
AccuZIP, Inc. produces the AccuZIP6 Postal Software. AccuZIP6 is direct mail software that can be used by companies large and small; from DMU's and large print chains to real estate agencies and churches. Any business that provides direct mail and address validation as a service to its customers or for its own use can use AccuZIP6.
For address clean-up, AccuZIP6 is a USPS CASS Certified product for address verification and includes NCOALink Change of Address verification. For further address cleansing, AccuZIP6 has a powerful duplicate removal tool and a merge/purge feature that compares multiple databases and removes the do-not-mail matches.
AccuZIP6 has GOLD PAVE Certification for 42 presort options, which enables the AccuZIP6 user to perform their own mailings and to offer it as a service for their customers. AccuZIP6 postal software comes complete with the ability to print postal documentation, create mail.dat files for PostalOne edoc uploading, and an interface that allows printing addresses directly out of AccuZIP6 or exporting to print elsewhere.
"AccuZIP represents the very best qualities of the kind of creative and innovative vendor on whom our members and industry rely," says Evans. "AccuZIP was founded in 1992 and has led the industry as a creative and strategic thinking organization. They have provided software solutions designed to be fully functional and feature rich yet extremely cost effective. This presents revenue generating opportunities to the market segment our members represent. For over 23 years AccuZIP products have allowed our members to grow their business and keep their profits by offering their "Price Lock Guarantee" and our committee wanted to recognize their significant contributions and excellent reputation. AccuZIP has continued to lead our industry by building strong relationships across the industry and supporting industry organizations like AMSP/NAPL/NAQP."
Steve Belmonte, President and CEO of AccuZIP, Inc., states "We were especially pleased and deeply honored when we heard about this award. There was no opportunity to submit our products for consideration and when we heard of the honor it was a complete surprise! AccuZIP works hard as an organization to serve this industry. To be chosen [as 2014 Product of the Year] from all the vendors and products associated with AMSP/NAPL/NAQP is one of the highest honors we have received."
"We are pleased to present this '2014 Product of the Year' award to AccuZIP, Inc. They are a company whose efforts have helped advance the growth and profitability of the quick and small commercial print companies that are such an essential part of today's graphic communications industry," says Evans, "and we look forward to being able to honor them before our members and guests at our annual Owner's Conference later this month."
---
About AccuZIP, Inc. AccuZIP is a national software company that develops USPS Certified products and services that streamline, standardize and simplify multi-channel communications processes. AccuZIP solutions encompass: Contact Data Quality, Address Hygiene and USPS Postal Presorting/Compliance/Mail Tracking and Reporting. For 23 years, AccuZIP solutions have become synonymous with value, service and innovation.
About the AMSP/NAPL/NAQP Owner's Conference The 2014 Owners Conference will feature keynote addresses and breakout sessions covering topics of specific interest to today's quick and small commercial printer and mailer. The event will also provide plenty of time for networking and enjoying the many cultural and entertainment attractions of Chicago and will be convenient for those planning to attend GRAPH EXPO 14, which it immediately precedes. Go to http://napl.org/2014-owners-conference/ to learn more or to register.