How to create a simplified address list and presort it for EDDM Retail Flats in AccuZIP6
Launch AccuZIP6, but close any open databases.
Pull down the
Select
menu to
Create Simplifed/EDDM Address List
.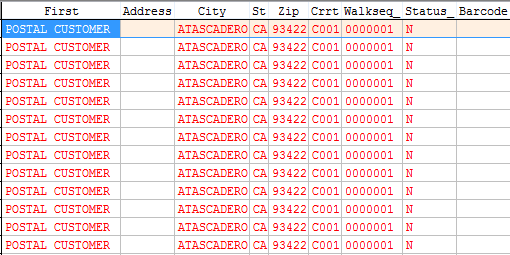 In the Build Simplified Address List window, type in the ZIP Code, ZIP Codes, or ZIP Code ranges you would like to use. You can enter ranges and individual zip codes in the same Build window. When you're finished, click
Build
.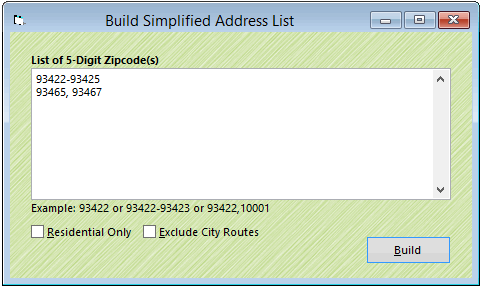 After the build is created, you need to open the simplified list.
Pull down the
File
menu to
Open Database
.
Browse to the directory where you created the simplified list. There, you'll see the name of the simplified list, as well as a Counts database. The counts database is a list that shows the number of residential and total addresses in each route that's in your simplified database. Don't open this database; open the simplified list instead.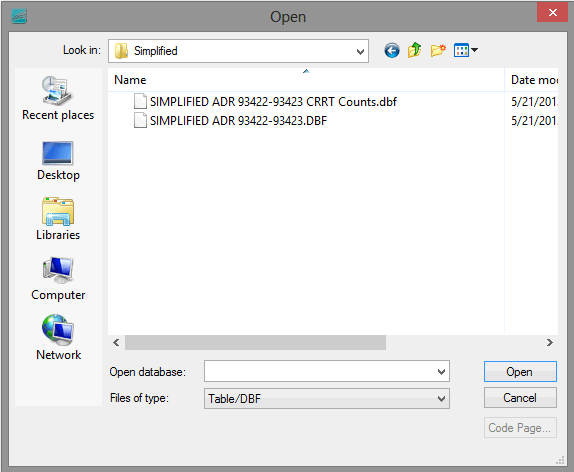 When you open the simplified list, the database will already be prepared for presorting. The walkseq_ is filled in, as is status_, crrt, zip, etc.
Do NOT validate this list.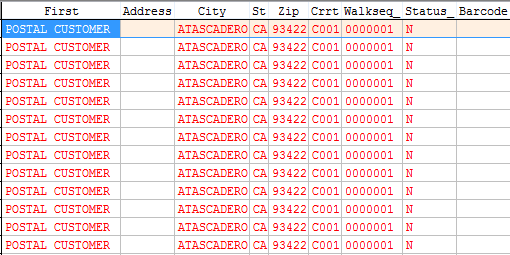 Pull down the
Sort
menu to
Presort Mail
.
In the Presort Setup window, choose
Standard Mail (EDDM)
.
Click on the Piece Size Calculator and enter your Flat size dimensions.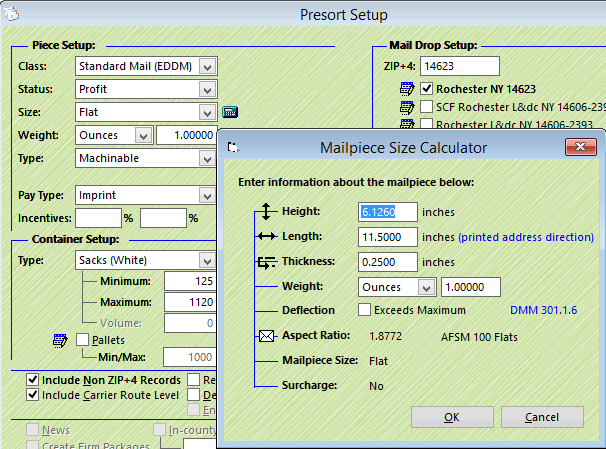 With your flats, keep in mind these DMM rules regarding EDDM-Retail:
Domestic Mail Manual wrote:

http://pe.usps.com/text/dmm300/145.htm#1041530

1.0 Preparation of EDDM-Retail Flats

1.1 General Information

All pieces mailed as EDDM-Retail mailings must be presented directly to the correct delivery Post Office or destination delivery unit (DDU)

1.2 Quantity per Mailing

EDDM-Retail flats must be part of one mailing of at least 200 pieces (or 50 pounds) of mail except under 143.3.1, but no more than 5000 pieces per mailing per day at any one Post Office.

Retail flats must be in bundles of 50 – 100. Place a facing slip on the top of each bundle, under the straps, with the number of pieces in the bundle written on the facing slip.

http://pe.usps.com/text/dmm300/143.htm#1041530

1.2 EDDM-Retail Flats Characteristics

EDDM-Retail flats must weigh no more than 3.3 ounces and must have a length greater than 10-1/2 inches long, or a height greater than 6-1/8 inches high, or a thickness greater than 1/4 inch thick. EDDM-Retail flats have the following maximum dimensions:

a. The length (the longest dimension) must be a maximum of 15 inches.

b. The height must be a maximum of 12 inches.

c. The thickness must be a maximum of 0.75 inch.

1.3 Price

Flats mailed under EDDM-Retail are not eligible for Nonprofit prices.

1.4 Fees and Services

There are no annual presort or mailing fees to mail pieces as EDDM-Retail. Ancillary service endorsements are not allowed on pieces mailed as EDDM-Retail flats.

2.0 Content Standards for EDDM-Retail Flats

2.1 Definition and Weight

EDDM-Retail flats are Standard Mail, and all EDDM-Retail flats in a mailing must be of identical content, size, and weight and cannot weigh more than 3.3 ounces.

3.0 Basic Standards for EDDM-Retail Flats

3.1 Basic Standards

EDDM-Retail flats must be part of a saturation flats mailing with all pieces bearing simplified addresses meeting the saturation and addressing standards in 602.3.0. Each mailing must consist of 200 or more pieces or 50 or more pounds of mail up to a maximum of 5000 pieces per day per 5-digit ZIP Code.

All pieces in a mailing must be entered at the designated Post Office servicing the routes and Post Office Box sections to which delivery is intended.
Make sure the boxes for I
nclude Carrier Route Level
and
Include Non ZIP+4 Records
are checked.
In order to get EDDM-Retail rates (as opposed to the EDDM-commercial rates), the ZIP Code you enter into the Mail Drop Setup area must match the zip code you're presorting. So if you're presorting carrier routes in the 93422 ZIP Code, then make sure the Mail Drop Setup has 93422 in the ZIP Code box.
Note: While the Non-DDU Entry EDDM-Commercial rates are higher than EDDM-Retail, the DDU Entry EDDM-Commercial rates are cheaper.
Click
Presort
.
In the Print Presort window, click on the Print Reports button.
Make sure you check the required reports, including the new Facing Slips checkbox.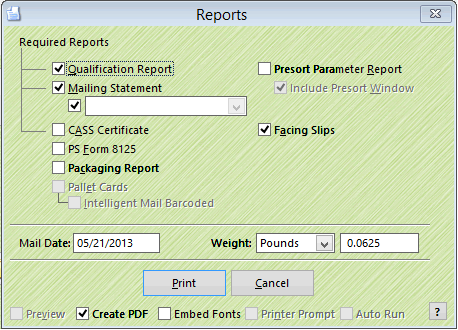 Click Print to print the reports and facing slips.
Two new reports are created for the EDDM Mailing:
Every Door Direct Mail Documentation

EDDM Facing Slips
EDDM Presorts are another service provided by AccuZIP6 at no additional charge.