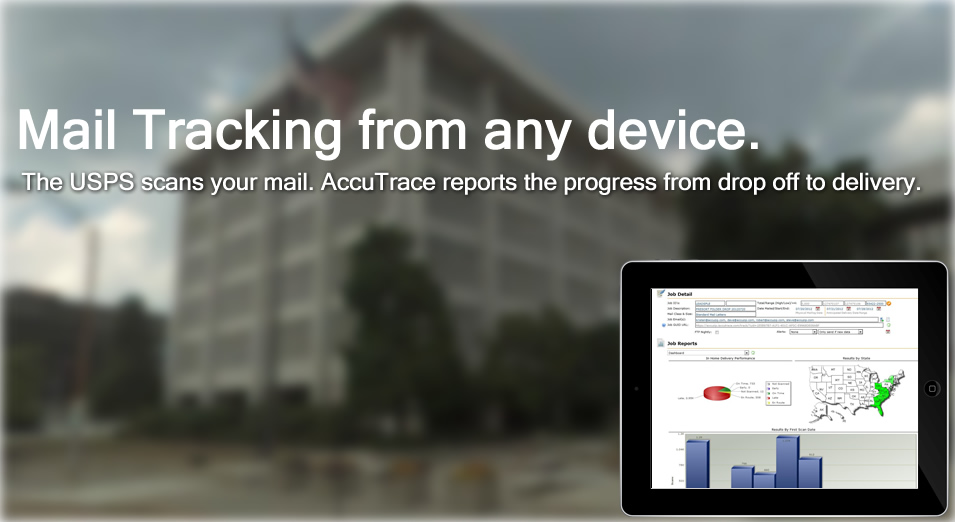 Designed to Generate Your Company BIG Revenue

With iAccuTrace you can literally track millions of mail pieces and millions of QR Codes for one flat monthly fee. The fair and unlimited usage pricing model helps you generate more revenue with reduced costs.
100% Branded Mail Tracking System for Your Company

Personalize the iAccuTrace Graphic User Interface and iAccuTrace reports by uploading your corporate logo within an administrator panel. The iAccuTrace unique URLs give your customers access to track their own mail across the United States, including real-time QR Code scans, and pinpoint all scan activity on a Google map.
Uploading mailing data and tracking is quick and easy

Simply log into iAccuTrace, upload your file, and begin tracking and viewing your results from the very first scan (origin point) all the way to the final destination. The results can be viewed via pinpoints on a Google Map so clients can see the exact travel points of the mail piece through the USPS Postal stream.
Stay on top of the mail you send by tracking scanned mail

iAccuTrace can generate the Tracking URL and re-direct URL with Google Analytic parameters to be used with a QR Code encoder to generate a variable QR Code image. The QR Code can be printed on each individual piece. iAccuTrace will automatically log exactly when the mail-piece was scanned, at what location it was scanned, the device used to scan the QR Code, and how many times the QR Code was scanned.
Dial (800) 233-0555 for pricing and to order iAccuTrace!